AMS 2404C, Electroless Nickel Plating
AMS 2405B, Electroless Nickel Plating, Low Phosphorus
ASTM B656, Standard Guide for Autocatalytic Nickel-Phosphorus
ASTM B733, Standard Specification for Autocatalytic (Electroless) Nickel-Phosphorus
The MIL-C-26074 was waived in favor of the AMS 2404.
EN baths are unique in that they do not require any electrical current to deposit nickel metal. These baths are autocatalytic in nature. Because of this we do not have to be concerned with high and low current density areas. When a part is submerged in the plating solution the part will plate at the same rate anywhere in ht part surface. A good rule of thumb for a mid-phos EN is that it will deposit .0007" in one hour. 
The difference in plating deposit between Electroless and Electroplating is showing on the figure bellow.
Besides the uniformity of the deposit, EN also has many other characteristics that can be used for engineering purposes such as ductility, lubricative, corrosion resistance, wear and abrasion resistance as well as solderability and hardness. The characteristics listed above can be altered by the phosphorous content of deposit. For example high and low phosphorous deposits have a much higher corrosion resistance than a mid-phos bath.
Electroless Nickel plating is essentially the process of producing a metallic layer on the substrate using a autocatalytic bath. Based on a Chemical Reduction, no electrical current is required to perform the metal deposition.
With excellent corrosion resistance the electroless nickel-phosphorus bath provides a uniform deposit without buildup at the edges or corners of the component being plated, a sharp edge receives the same thickness of deposits, as does a blind hole.  This characteristic is very important on the field of metallic products for engineering (functional) uses. The coatings are generally deposited from acidic solutions operating at elevated temperatures.
The coatings are alloys of nickel and phosphorus produced by autocatalytic chemical reduction with hypophosphite. Because the deposited nickel alloy is a catalyst for the reaction, the process is self-sustaining. The chemical and physical properties of the deposit vary primarily with its phosphorus content and subsequent heat treatment (ASTM B733-04).
Multifunctional Properties of Coatings:
Hardness,
Heat hardenability,
Wear and corrosion resistance,
Abrasion,
Magnetism,
Electrical conductivity provide diffusion barrier,
Solderability.
Types of Electroless Nickel
Different types of Electroless Nickel have been created to offer special properties, based on the end-use requirements.
Nickel-Phosphorus Baths
Deposits from these baths can be identified by the phosphorus content.
Acid-Nickel Phosphorus
| EN Type | Phosphorus Content | Common Use |
| --- | --- | --- |
| Very low phosphorus | 1-3% | Applications requiring abrasion and wear resistance. |
| Low phosphorus | 3-6% | Electronic applications, solderability, bondability, increased electrical conductivity, and resistance to strong alkali solutions. |
| Mid phosphorus | 6-9% | To meet the general purpose requirements of wear and corrosion resistance. |
| High phosphorus | 9-12% | On beryllium and titanium parts for low stress properties |
Alkaline Nickel-Phosphorus
With low phosphorus content deposited 3 to 4%, the Alkaline Nickel-P is plated at moderately low temperature, making them suitable for plating on plastics and to many applications in the electronics industry, when good solderability is required.
Nickel-Boron Baths
Nickel-boron baths are normally formulated using an amine borane as the chemical reducing agent. Alloy deposits can be plated from acid or alkaline baths. Is often used in electronic applications to provide specific harder deposit and also produce a high electrical conductivity layer.
Types of Nickel-Boron Baths:
Low-boron-containing baths (< 1% B)
High-boron-containing baths (2 to 3% B)
Polyalloys
Solutions deposits having three or four elements designed to maximize qualities such as corrosion resistance, hardness, high-temperature resistance, electrical properties and magnetic or nonmagnetic characteristics.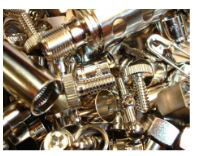 Types of Polyalloys:
nickel-cobalt-phosphorus

nickel-iron-phosphorus

nickel-tungsten-phosphorus

nickel-rhenium-phosphorus

nickel-cobalt-phosphorus

nickel-molybdenum-boron

nickel-tungsten-boron
Salvage or Restoration Using Electroless Nickel Plating
Electroless Nickel can also be used for the restoration of worn pieces or salvage of undersized (mismachined) parts.